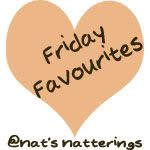 I love blog hops so I thought I'd start my own!
Announcing my very first Friday Favourites. Each Friday I will put up a new favourites topic and you can link yours up. There's no limit to how many favourites you can have for a topic, some you may have 1, on others you might have quite a list! You might just find that you discover a new favourite from someone else.
So let's get on with the first topic - iPhone Apps!
Instagram is an absolute fav of mine. I love how I can turn "blah" photos into awesomeness!
Facebook - pretty self explanatory really. I have a bad habit of checking my fb all the time!
Twitter - I'm just starting to figure out Twitter - and now I can use this app when I'm away from the computer.
Period Tracker Deluxe - definitely one for the girls!




Pinterest - just like a giant pin board and now I can pin away from my iPhone




Footy Live - I love my AFL! With this app I can check the scores in real time



BlogPress - So I can blog straight from my iPhone




Get Glue - Check in to movies and tv shows you're watching, books you're reading or simply what you're thinking about. Of course you have the option to follow friends and see what they're up to too.



ebay - I love not needing to sit at the computer waiting for an auction to end.




Foxtel Guide - Don't you hate it when you're out and you have forgotten to record something on TV. With this app, I can login to my Foxtel and record away.




So there is it - my first Friday Favourite. I can't wait to find out what some of your favourite iPhone app are. Please add the link to your Friday Favourites post, not you blog's home page.